From 3/2/15
Hola Family and Friends!!
How are you all doing?? Thank you for the letters and photos. So great to hear that my cousin Anthony is home! Hope he is doing well! Please tell him I said hi and would love any missionary advice from him.
This week we taught two little sisters named F and M. We talked to them about the baptism of Jesus and showed them a picture that looks something like this: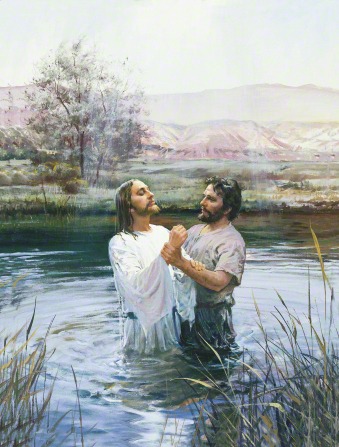 "Do you know who is on the left?"
"That's right---Jesus Christ! Now, do you know who is on the right side? Who baptized Jesus? His name starts with a J....?"
"...................................Jair?"
"So close. His name was John the Baptist."
"A" for effort Sister F, "A" for effort.
This week we've been teaching a teenager named E. We met him walking down the street. He was on the corner passing out flyers for a health store business he was just opening as a new personal consultant. As we passed by, he offered us a flyer. I have a habit of taking every flyer someone passes to me, because I understand what it feels like when people don't take our pamphlets. :( But I'm not bitter. SO I always take them. haha. Then last week, we passed by him again but I didn't realize that it was E because we were in a different part of town. Without realizing who it was, I felt like we should contact him. We introduced ourselves and he said, "I've seen you before. You walk a lot around here!"
We invited him to learn more about the gospel and shared a little bit about the Restoration with him.
We saw him later in the week for our appointment time and he hesitantly let us in--unsure of what we do as missionaries or what we were going to talk about. We got to know him and heard a little about his personal beliefs. We felt impressed to share the message of the Restoration with him. He was very interested in the experience that Joseph Smith had. We gave him his own copy of the Book of Mormon and invited him to be baptized. He said yes and we set another appointment to see him.
The following appointment, he spoke up first:
"I've been reading the Book of Mormon!! But where do the names of the people come from? Where does the story start? What about this and that?..."
I love love love to see when people feel a need to learn more about the gospel. I love when people ask honest questions. I love when people have the faith enough to ask God about the truthfulness of the gospel. I love seeing people's reactions when they understand and have their questions answered. We see this in E! When we went to see him this week, we talked about the Word of Wisdom and the Sabbath Day. He committed to live both commandments the instant he learned them. He told us that he did pray to know if the gospel is true and he is working to find his answer.
Another neat experience:
We went to eat lunch with a family that we see every Wednesday. As we plan for each week, we automatically write in the Eb family for Wednesday. We planned to share a story of faith with them that talked about tithing. As the food appointment was ending, this member family had two non-member relatives over, their other non-member house maid, and when, lo and behold, a business associate of them arrived with his wife....also non-members...AND we were going to share a message on tithing. Hermana C and I exchanged looks before sharing to make sure that we still felt comfortable about sharing this message. And we both felt okay, so we continued...
After sharing a short story of tithing from President Hinckley and bearing our testimonies, the business partner spoke up and asked to share his feelings. He thanked us for the message we shared. He said that although he faithfully attended another church he needed to hear about how the Lord provides for us when we trust Him. He said that he had gone through some uncertain economic times recently and that he felt the message was true and that it served to help him feel better and that his heart felt filled. His wife said she felt something peaceful and good inside. We felt grateful that the Spirit helped give us the courage to share a message that seemingly was out of place--but as we tried to do the best we could, maybe someone else was comforted.
Something I have been reflecting on is this quote from Elder Edward Dube:
"In the sight of the Lord, it is not so much what we have done or where we have been but much more where we are willing to go."
This week, I want to answer the call of the Lord to serve with a more positive response and attitude. And try to respond to the impressions of the Spirit a little more quickly. Personally, I am going to work on responding more readily "I'll go where you want me to go, I'll say what you want me to say, I'll be what you want me to be."
Hope you all have a great week! Love you all.
Con Amor,
Hermana Fernelius
This is us right now in the Cyber. I was thinking this morning that mom would be really sad/mad if I didn't send anything. So HERE WE ARE :)

Sorry I have ZERO pictures since December. I took this picture five minutes ago: Hermana C and I got special rings today from Centro.